Jesus Church in Jastrzębie-Zdrój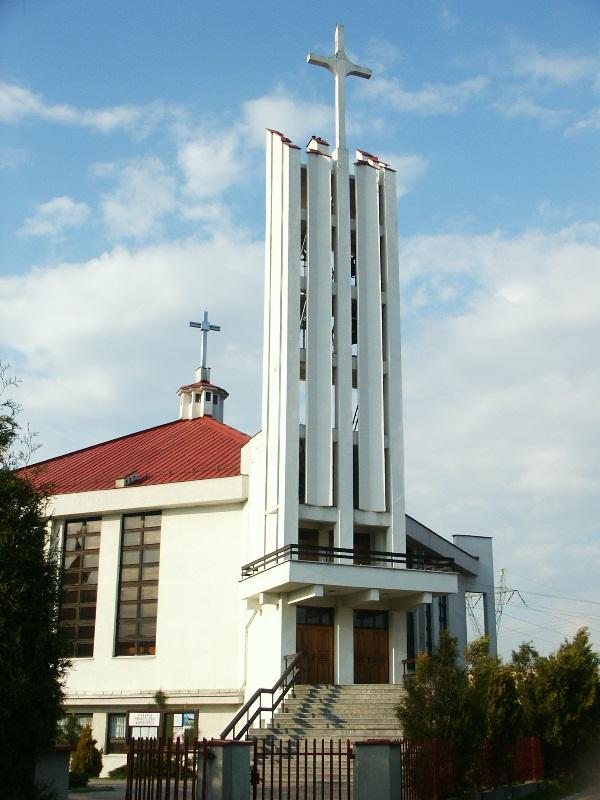 www.jastrzebie.luteranie.pl
Lutheranism in Ruptawa (district of Jastrzębie-Zdrój, where the church is located) dates back to XVI century but the parish was established only in 1908. A church and a parish building were consecrated on the 12th of October 1912. Earlier there were two Lutheran School set up – one in Ruptawiec district (1834), and one in Ruptawa (1882).
During World War II the roof and church tower as well as parish building were severely damaged. Thanks to parishioners' involvement however, the damages were gradually repaired. Along with the development of the city, the number of Lutherans increased and this in turn led to a decision about building a new church (in the picture). Construction works took six years, and thanks to the enormous input of Lutherans who offered their work, and thanks to external donations, the undertaking succeeded. The Jesus Church was consecrated on the 26th of June 1994.
The parish has a choir (performing for 65 years), youth choir Sola Gratia, and a Youth Band. There are annual youth Art Reviews organized, English language camp 'Day Camp', and chamber and organ music concerts.
---
Messiah Lutheran Church
www.messiahnetwork.org
Messiah Lutheran Church and School
is located in Weldon Spring, Missouri, a suburb of St. Louis, Missouri. Messiah was founded in 1987. Messiah Church currently has over 2,000 baptized members and worships over 750 people on an average Sunday.
Messiah School offers classes for students from pre-school through 8th grade and has over 300 students. Messiah is a very young congregation comprised of families with children.
Messiah is also heavily involved in Christian outreach activities with active ministries in Poland, Uganda and on the Cheyenne River Indian Reservation in the State of South Dakota.
---
Trinity Lutheran Church
www.trinityorchardfarm.com
"Settled between two rivers, showing the way to the Water of Life."
The mission is founded in the rich heritage of teaching God's Work, showing the way to heaven through faith in Jesus Christ as Lord and Savior.
Trinity congregation began in 1876 when a small group of settlers on the rich farmland between the Missouri and Mississippi Rivers organized as a church.
"Our congregation has grown to include members from St. Louis and St. Charles counties and guests from throughout the world, yet our identity and mission have remained firm."
There is also Trinity Lutheran School founded in 1862 functioning next to the church.
"We are a small school with just three classrooms serving children in Kindergarten through eighth grade. We like to think of our unique approach as an excellent education in a unique environment."
---